Guest Accommodations
Hotels & AirBnBs
New Orleans has many beautiful and historic hotels and homes available for your stay. Keep in mind April is a very popular month for tourism so please try to book accommodations at least a few months in advance. We recommend staying in the French Quarter, Central Business District ("CBD") or Warehouse District. Our wedding will be in City Park which is in the "Mid-City" neighborhood. There are not a lot of hotels there, but everywhere is about 10 minutes away and New Orleans is easy to get around via taxi/Uber/Lyft/Blue Bike.
Wyndham New Orleans - French Quarter
124 Royal St, New Orleans, LA 70130, USA
504-529-7211
Check-in:
February 24th, 2021 |
Check-out:
March 1st, 2021
Rate:
$149
Travel and Transportation
Uber / Lyft / Taxis
Uber, Lyft, and taxis are a great way to get around New Orleans. It takes approximately 15-20 minutes to get to our wedding and reception venue (The Pavilion of the Two Sisters in City Park) from the French Quarter. There is a large free parking lot available at the venue as well if you would prefer to drive.
Post- Reception Buses
We will have buses available from 9:30 - 11pm to take guests to the French Quarter to get dropped off at their hotels or continue celebrating!
Things to Do
Restaurants & Bars
New Orleans is famous for its food and for good reason! While most any restaurant you end up in will likely be great, we have our favorites we recommend. We love to eat out so if you have any questions on any restaurants you find feel free to reach out with questions! As this is a busy weekend, reservations for large groups or popular restaurants are highly recommended. French quarter fest is also a great place to sample New Orleans cuisine from all of the restaurant booths available.
Parkway Bakery & Tavern - restaurant located on bayou st. john in our home neighborhood of mid-city, Parkway is a casual eatery famous for it's classic New Orleans Po-Boys. Helen recommends a fried shrimp po-boy "dressed" (lettuce, tomato, pickles, and mayonnaise).

Domenica - restaurant located inside the Roosevelt hotel, in the Central Business District ("CBD"), just outside of the French Quarter. If you're looking for great Italian food, wine, and ambience we highly recommend checking it out. If you're lucky there may be a friendly face at the bar :). We specifically recommend the roasted cauliflower, squid ink tagliolini, and margherita pizza.
Bonci - restaurant located in the new South Market District just outside of the French Quarter, Bonci is a casual pizza place that just opened it's second location in New Orleans - the first and only other in Rome. Come here for untraditional pizza toppings like octopus and potato, but stay for the classics.
Longway Tavern - restaurant/bar located in the French Quarter, Longway has a great courtyard and casual ambience. It is a great place to stop in for a quick (or slow) bite and a drink while wandering around the french quarter.

Carmo - restaurant located in the central business district (CBD), Carmo is a vegan-friendly global-inspired cozy restaurant. This is Helen's mom Ginny's favorite restaurant in New Orleans. We recommend the Carmo salad, Vietnamese Flatbread, and Pao de Quejio.
Mollys at the Market - bar located in the french quarter famous for their frozen irish coffees. Helen is known to ignore her lactose-intolerance to indulge in one of these. We recommend stopping in for a frozen irish coffee (or any drink) and taking it to-go (!!) to explore the french quarter market.
Lafitte's Blacksmith Bar - bar located in the french quarter famous for being the oldest continuously running bar in the country. Lafitte's may or may not have running electricity, but it always a great time. We recommend (with caution) their famous "purple drink".
Pat O'Brien's - bar located in the french quarter in the middle of Bourbon Street - Pat O's is always frequented by locals in a sea of tourists. The piano bar and courtyard are always a great time.

Willa Jean - restaurant located in the new South Market District just outside of the French Quarter, Willa Jean is a hip location for a great brunch. We recommend the cornbread, avocado toast, and frose.
Blue Oak BBQ - restaurant located in Mid-City, Blue Oak is a casual joint with the best BBQ in town.
District Donuts Sliders & Brew - a few locations, but we recommend the original on Magazine street uptown. Sam's most frequented uber-eats order, District is known for their creative donut flavors, great breakfast sandwiches, and sliders.
St. James Cheese Company - located in the central business district ("CBD") and uptown on Magazine Street, St. James is the perfect spot for a great casual lunch. Helen recommends the Hooks Cheddar.

Commanders Palace - restaurant located in the historic Garden District, Commanders Palace is an upscale New Orleans institution. We recommend dining in the garden room and to make it for weekday lunchtime 25 cent martini happy hour! Keep in mind there is traditionally a dress code where jackets are required for dinner. Reservations recommended.
G.W. Fins - restaurant located in the French Quarter, GW Fins is upscale seafood focused dining perfect for special occasions. We have celebrated a couple anniversaries and you can never order wrong. We recommend everything on the menu - but mostly the salty malty ice cream pie. Reservations recommended.

Cajun Encounters Tour Company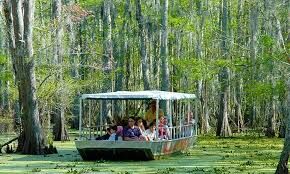 55345 US-90, Slidell, LA 70461, USA

If this is a first visit to New Orleans, or you have not yet been outside of the city, we highly recommend taking the time to go on a swamp tour. Helen has been on over 5 during her 10 years here and has loved every one! There is always something new to learn and it is a nice change of pace from the city. Cajun Encounters is a great tour company that has pickups from many locations downtown, so a rental car isn't necessary. In addition to lots of alligators, you also may see raccoons (doesn't sound exciting but they're extra cute in the bayou), wild boar (Helen's favorite!!) and nutria (not Helen's favorite). The nighttime swamp tour is also great.
Airboat tours are another great way to see another side of Louisiana - much faster boats and typically smaller groups.

The National WWII Museum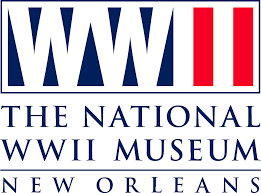 945 Magazine St, New Orleans, LA 70130, USA

The National World War II Museum has so much to see and do, it can take up a full day, but is well worth it.